Speaking of horrible behavior, this permanent A+ list NBA player has decided to come down on the side of the serial domestic abuser who even shot a woman.
The NBA player thinks the abuser is the greatest thing since sliced toast and lets the world know it.
What if he had shot one of the player's girlfriends or the player's wife?
LeBron James
Tory Lanez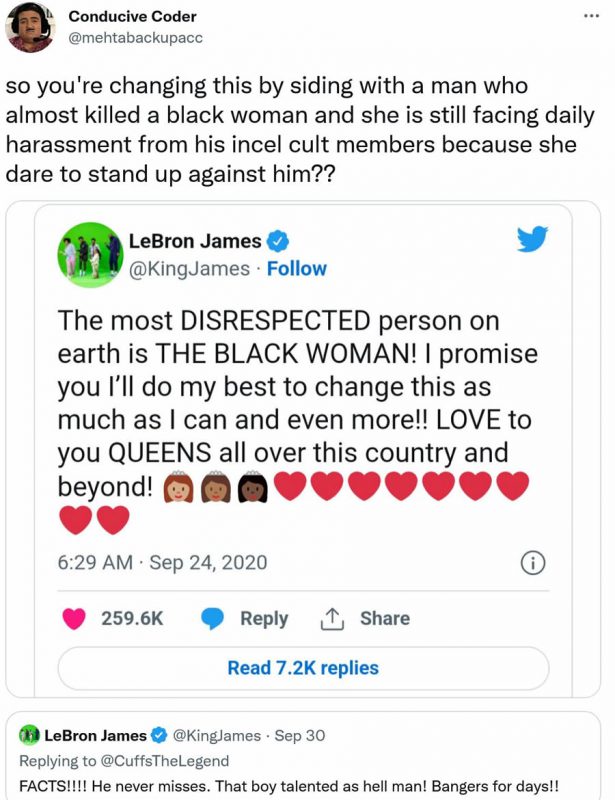 LeBron James Roasted After Co-Signing Tory Lanez Album

Tory Lanez came through with a 20-track new album for his fans on Friday, called Sorry 4 What. The album has been getting praise from his supporters on social media, although there are plenty of people swearing off the album due to his ongoing shooting case against Megan Thee Stallion.

One person who is looking past that and enjoying the music is none other than LeBron James. LeBron has always been an avid rap listener, and on Friday, he replied to CuffsTheLegend on Twitter with some praise for the album. As you can see, he wrote "He never misses. That boy talented as hell man! Bangers for days!!"

Twitter was not happy with LeBron's response, as they felt like it was a betrayal of some of the things he has said in the past regarding the need to protect black women. While Tory's case against Meg has yet to be settled or resolved, there are a lot of people who see Tory as guilty, which has many calling LeBron a hypocrite. – Source
---
Read more on these Tags: LeBron James, Tory Lanez
---