I'm Using It
There is an actress/comedienne/radio host who used to also write books.
She hasn't done so in a very long time.
It has been a couple of decades.
About five or six years ago, she was thinking of new ways to bring in income and decided she would write another book.
In that book, she was going to recount some stories about this permanent A+ list DJ who is no longer on his A game.
The stories would have included the definitive account of whether his first date with someone special to him, was in fact, the date bailing on her paying client to have a chance with the DJ.
It also would have told some other tales that have all been speculation in the past.
She was dissuaded by not only the people of the DJ but also a late night talk show host.
You know who won't be dissuaded though?
That someone special to him who already has a manuscript ready to go whenever the split happens.
Actress/comedienne/radio host : Sandra Bernhard
A+ list DJ: Howard Stern
Beth Ostrosky
Late night talk show host: Jimmy Kimmel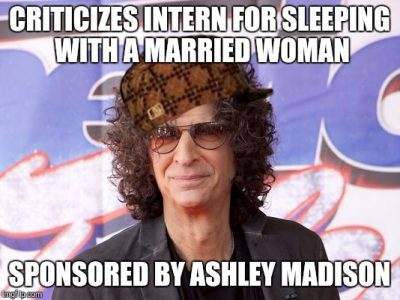 Sandra Bernhard Talks About Being Ignored By Howard: "The excuse I get is that he's only on three days a week, and people have a lot to promote. That's bullshit."

Backstory, Sandra Bernhard was a show regular appearing nearly once a year for decades. She formed a relationship with Howard over the years, even hanging out at his Hampton's house. Howard went to Sandra in 2010 when he had an issue in his personal life. This is when he turned to God and Sandra was his middleman to temple. Her dog, was even a rescue from the Northshore Animal League. Her last interview on the show seems to be 2012, and she was last involved during the 2014 Birthday Bash. Sandra, who referenced Stern quite a few times a year in tweets, seems to have not made mention of him since 2014.

Making things even more awkward, Sandra has worked in the same building as Howard since 2015 where she hosts the show Sandyland on SiriusXM.

Here is the quote from Hornet regarding her disappearance from the Stern Show:

Hornet: And as great as Sandyland is, you're also a legendary talk show guest. Your appearances on The Howard Stern Show were always must-listen radio, and no one can forget your appearances on Letterman show, some of which were with Madonna. Why don't you get booked as a guest any longer?

Sandra: Isn't that the most ridiculous thing? I see Howard Stern in the hallways at Sirius all the time. I've gone out to the Hamptons and stayed with him and his wife, and we've been friends. It's like, "What the fuck is wrong with you?" They always play the old Sandy Bernhard interviews, and people will say to me, "Oh my god, you were brilliant on Howard." Yeah, no shit it was brilliant; no one was ever better on Howard Stern or David Letterman than me.

The excuse I get is that he's only on three days a week, and people have a lot to promote. That's bullshit. What's brilliant about Howard and David and me is that you have people on [your show] who are just fun and entertaining. Who gives a shit what anyone is promoting? Do you really want to hear that tired conversation about the character they play and the motivation? Who fucking cares?! Who are you? Show me who you are. That is what I did, and that is what I do. That's why I'm always fresh in the moment. If you are in life and you are in the thick of it, there always something interesting to talk about. – Source
---
Read more on these Tags: Beth Ostrosky, Howard Stern, Jimmy Kimmel, Sandra Bernhard
---