At the time of his death, this foreign born A list singer in an A list group was seeing several different women.
The general belief is there were four.
The established one, and then three other women.
No one has ever really pinned down who the random three women were.
I have now found at least one of them, and because of the relationship, it led to a divorce of the woman.
The woman had known the A list singer for a long time. She had contact with him in some form or another for nearly a decade.
The woman at the time was probably at the peak of her fame when she met the singer and was almost a decade younger than him.
They hooked up within several hours of meeting, despite the woman having a then boyfriend who she would marry.
That boyfriend who she would marry, introduced the woman to the singer.
For all those years, he never knew his wife was hooking up with his best friend.
It was not until after the death of the singer that he discovered it and divorced his wife.
Michael Hutchence – INXS
For the Gen-Z: Michael Kelland John Hutchence was an Australian musician, singer-songwriter and actor. Hutchence co-founded the rock band INXS, which sold over 75 million records worldwide and was inducted into the ARIA Hall of Fame in 2001. He was the lead singer and lyricist of INXS from 1977 until his death.
Kym Wilson
Rosanna Crash
Rosanna Crash is an American Model. She is famous for Dated Michael Hutchence for 3 years.
#MichaelHutchence celebrating with girlfriend Rosanna Crash after winning big at the 1988 MTV Awards with #INXS #IconicMoments #AStatueForMichaelHutchence pic.twitter.com/SUVyrT99YD

— Honouring Michael Hutchence (@HonouringHutch) January 19, 2019
Michael Hutchence's secret lover revealed

Legions of adoring INXS fans grew up dreaming of dating frontman Michael Hutchence – now one secret lover has lifted the lid just how their whirlwind three-year romance came to a crashing end.

American model Rosanna Crash met Hutchence in Japan and quickly became the "saint to his devil", keeping the charismatic rockstar in line.

At the height of their stardom, Crash toured alongside the band for their Kick tour in 1987.

Despite being one of the most adored rockstar's in the world, Crash said Hutchence felt like he didn't have any genuine friends, adding that she worried people were taking advantage of his fame and renowned generosity.

"I felt like I was there to help him and protect him," Crash tells Channel 7 in the world exclusive documentary to air next Monday.

"I don't think he could protect himself.

"There were a lot of fun times, a lot of champagne, a lot of fans going crazy."

Their romance was kept under wraps and even 20 years after Hutchence's life came to an abrupt end inside a Sydney hotel room, Crash initially struggled to open up about the man who broke her heart – before the emotion poured out. – Source

INXS star Michael Hutchence and Paula Yates' tragically doomed romance

The lovers' tumultuous relationship and respective deaths would go on to have a devastating rippling effect that would turn the world's of many others upside down – including Paula's own children.

The pair first met in 1985, when Paula interviewed Michael for her show, The Tube.

Speaking of their first meeting, Paula recalled that the curly-haired bad boy – who had dated a bevvy of beautiful women, such as Australia's own Kylie Minogue – "was so heartbreakingly beautiful it made me feel quite feeble."

Years later in 1994, the pair would meet again when Michael appeared in a sexually-charged interview on Paula's new show, Big Breakfast, which took place on a cow-print bed.

"For the first time, this is a guest I want to have my leg over," Paula remarked on-air as she suggestively tangled her legs around Michael.

According to Richard Lowenstein, who created the documentary Mystify: Michael Hutchence, the rock star quickly fell for Paula – despite being in a relationship with Danish model Helena Christensen at the time.

"He fell for Paula, he fell for her daughters, he fell for her family," Richard said. "That in itself is a huge tumultuous tabloid media event because of the sanctification of Bob [Geldof]"

Four months after their infamous interview, Paula officially left her husband of 18 years, Bob Geldof, for the INXS frontman.

After leaving Bob for Michael, Paula went on to give birth to the rocker's only child and light of his life, Heavenly Hiraani Tiger Lily Hutchence – or simply Tiger Lily – on July 22, 1996. – Source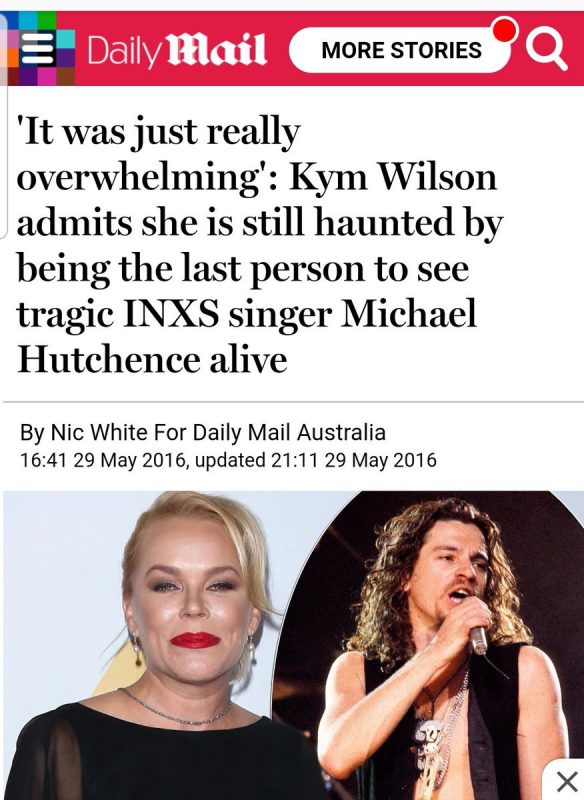 'It was just really overwhelming': Kym Wilson admits she is still haunted by being the last person to see tragic INXS singer Michael Hutchence alive

Six months after her ex-boyfriend Michael Hutchence hung himself in a Double Bay hotel room, Kym Wilson fled to the U.S. and left her acting career behind.

Almost 20 years later, the former Australian TV star is still haunted by being the last person to see the INXS lead singer alive before his 1997 death.

She struggled to deal with being under siege by the international media and left for LA on the three-month Winston Churchill Fellowship she had won months before his death and never came back, relishing her anonymity overseas.

She was not able to process her grief until a Shakespeare workshop during the fellowship, when she broke down performing a passage in Richard III on hanging, and again practicing strangulation. – Source
---
Read more on these Tags: INXS, Long Read, Michael Hutchence, Rosanna Crash
---